Kalovida Canada Acquires Heritage Site for Boutique Condos
Kalovida Canada Inc., is pleased to announce the acquisition of the unique  heritage building at 24 Mercer Street, located in the heart of Toronto's "SOKI" (South of King, west of Simcoe) neighbourhood in Toronto. Kalovida plans to immediately advance on the plans and permits in place to develop a boutique 17-storey, luxury residential mixed-use condominium tower in the heart of Toronto's bustling downtown entertainment district.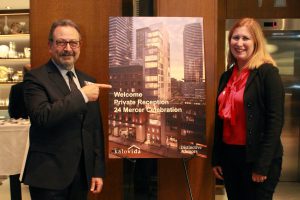 "We are excited to undertake such a prominent and exceptional project as our entry to the Toronto real estate market," says Rafik Salib, Managing Director of Kalovida Canada Inc. "Toronto has been on Kalovida's radar for some time now and we finally found the right project to advance the long-term vision of the organization — and that project is the luxurious development that will be 24 Mercer Street."
Deborah Scott, former owner and seller of the building, Principal of Scott Shields Architects, has created and completed the architectural plans and renderings for the project. "We are extremely excited to see our vision for full floor loft development on a small site in a great location integrated with a heritage building come to life," says Deborah. "Having worked in this existing building on Mercer Street for many years, I can confidently say that Mercer Street is a hidden gem in Toronto, tucked away in the heart of the action. Directly across from Nobu Toronto, this discrete boutique building will offer the ultimate in terms of prestige and luxury.
The development at 24 Mercer will set itself apart from the towering skyscrapers that currently are filling downtown Toronto's skyline. Each unit will have key elevator access and will be essentially a stacked single-storey house in downtown Toronto at the foot of the PATH system.
"Our goal with 24 Mercer Street is to build a luxurious and intimate building unlike any condominium development that exists in Toronto." added Andrew Shields, fellow principal of Scott Shields Architects.
Tony Sbrocchi, Sales Representative, the Condo Store Realty Inc., Brokerage acted as the Listing Agent on the transaction.
The transaction could not have been completed without the legal support and service of Stephanie Eiley, Partner at Torkin Manes LLP who acted on behalf of Deborah Scott as Seller and Tara Piurko and Daniel Kofman, each Partners at Blake, Cassels & Graydon LLP who acted on behalf of Kalovida Canada Inc. as the Buyer.
More information on the development will be available throughout the year and pre-construction sales are estimated to being by fall of 2018.
---
Kalovida Canada Inc. is a sister company of German real estate development corporation, Kalovida Grundbesitz GmbH. Their portfolio consists of small to medium sized multi-family residential condominium developments, specializing in intimate projects with unique attributes. The international developer is currently in an expansion phase, securing and undertaking prominent projects in the most prestigious real estate markets around the world.